SUPER !!! and thank you, Thomas. I could take a photograph of you and make a painting of you :-)))
My artwork was showed 2014 in the group exhibition at the Karlskaserne Ludwigsburg
and 2015 in the exhibition of the year arts club Ludwigsburg.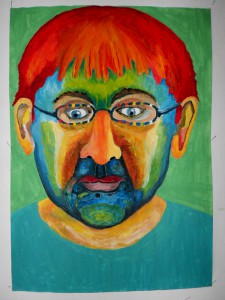 Title = artist Thomas Weber, Acryl 85 x 60 cm
Thomas Weber, artist.
1982 – 1987 Study at the university of arts in Stuttgart,  in the class of Prof. Schoofs.
Since that time artist.
1997/1998 Studentship at the Center for Contemporary Arts "Bemis" in Omaha, Nebraska and USA.
1998/1999 Studentship of the state Baden-Württemberg, Cite internationale des Artes in Paris.
1999 1. prize for sculpture and ceramic, Offenburg. 2003 prize of the culture from the city Ludwigsburg.
2008 work stay in Fuping, China.
(Biography excerpt from the catalog school of arts Labyrinth)
www.skulptur-thomas-weber.de